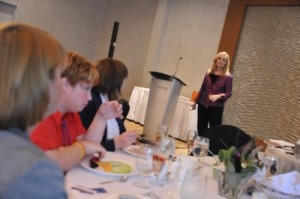 Robin Jay: I want to help you INCREASE SALES
Is the goal for your next sales meeting or annual conference to INCREASE SALES? Do you want to bring in a motivational speaker who can IMPROVE your team's attitude, soft skills, and their overall ability to close more sales? That is exactly what I do. Don't blame the economy! I can show you how to grow your sales and increase your business – whatever business you are in – and whatever the economy.
I discovered the SECRET for increasing AND sustaining sales. When I worked as an account executive, I regularly exceeded my sales goals by more than 150%! Imagine if everyone on YOUR team could do that!
The Secret to Increasing Sales is Building Relationships
How did I do it? If you want your sales executives to discover what I know, then bring me in to speak at your next meeting. I can assure you, it's all about the RELATIONSHIPS your team will be able to build over time.
Get this: whenever I speak on sales, I ask my audiences if they have a business near their homes – a drugstore, a restaurant, a salon; but, instead of patronizing this convenient establishment, I ask if they get in their cars and drive 15 – 20 minutes to a LESS CONVENIENT business because they prefer how they are treated there. The answer is ALWAYS 100% "YES!"
The reason for this is because PEOPLE PREFER TO DO BUSINESS WITH PEOPLE THEY LIKE!
I am a Business Relationship Expert, an Award-winning Author and one of the most entertaining speakers you'll ever hear. My engaging, fun programs are filled with tips and techniques that your team can implement IMMEDIATELY to increase sales and improve their business. Email me today – Robin at RobinJay.com – and I'll share countless testimonials with you from satisfied clients. Call or email me today. It's not too late to make up lost ground in 2013!