Get the Help You Need to Write Your Book
BUSINESS LEADERS:                             Why You Need to Write a Book
Whether you need a ghostwriter to pen your story for you or you want to write your own book, I have the perfect package for you. It all starts with a FREE consultation! First up, a fabulous ghostwriting package where all you have to do is tell your story; I'll do all the heavy lifting! Scroll down for additional packages.
ATTN: Business Owners, Doctors, Entrepreneurs, Coaches, & Executives …               if you – 
Own a company or are a C-Level Executive
Are a doctor, coach, consultant, health or fitness expert 
Have an important message you want to share
Want to inspire others to achieve YOUR LEVEL of greatness, and
Want to DEFINE yourself as the top expert in your field
                You need to share your story in a book!
What do Warren Buffet, Tony Robbins, Jack Canfield, Ray Dalio, Dr. Steven Gundry, Phil Town, Dr. Michael Greger, and other industry leaders have in common? They are all authors! They have shared their stories and their principles for success in best selling books which have helped to put them on the map as the top leaders in their fields. It's not enough to just BE successful in your field; in today's world, you want to inspire and empower others by sharing your wisdom and experience.
Ghostwriting Package for Executives
As an award-winning author, I know the pure JOY of getting published. If you have a story to tell, I want to help you become a published author so you, too, can discover the exciting world that awaits you as an author. Becoming a writer will help you to define yourself as a leading expert, build your brand and reputation, and excel in business in ways you may never have imagined. 
The challenge is that between finding time to write and actually getting your book published, it can be impossible for someone in your position. That's where I come in.
   I will write your book for you – in your own words
I am an award-winning business book author (my first book is in 12 languages), I've published three best-selling anthologies, written and produced three award-winning inspirational films, and I am the President of the Las Vegas Convention Speakers Bureau. I know what it takes to succeed as an author and speaker … that's why I want to help you to get your book written and published. I know why today's top industry leaders have books and what it does to define them as the leaders of their industries – whatever business they're in. And, I want you to discover what they know. Having a book is the ultimate game changer!
Differentiate yourself from your peers. Make a bigger name for yourself than you ever thought possible!
I will make it EASY for you. Don't put it off another day.  I will give you all the support you'll need as I write your book for you – in your own words.
With my ghostwriting package for executives, you'll become a published author. With a published book, you will be sought after …
As a consultant; charge top industry fees to share your advice
To contribute articles – online, in magazines, and newspapers.
To create and sell products that support your ideals and goals
To write more books! Having a book is such a powerful tool, most successful authors continue to publish and share their experiences so that others may benefit 
Contribute to reports and documents you can deliver with authority
To publish additional E-books that will quickly become no-cost revenue producers
I WILL HELP YOU TO BECOME AN AUTHOR!
With the Ghostwriting Package for Executives, here is what you'll get:
You will keep 100% of the rights to your book – and 100% of the royalties!
I will introduce you to a top literary agent in the industry
You will have a completed book within ONE YEAR; printed hard cover and/or paperback options available
Your book will be listed on AMAZON & BARNES & NOBLE!
I'll share with you the inside scoop on what it takes to create a #1 bestseller
I'll share access to all my resources – including literary agents, printers, & marketing consultants
Private 1-on-1 time to address any unique challenges and help you to move past them
Mastermind sessions to help you write your best work ever; I will interview you and build your stories so readers will enjoy discovering your rise to success
Original cover design!
If you decide to offer your book as Print on Demand, Amazon will deposit money in your account every month that you sell your books with them
You'll enjoy creative support; I will edit for thought, comprehension, and cohesiveness, plus your manuscript will receive a complete grammatical edit  
Once completed, you'll have countless print run options and flexibility: Print 1 copy or 1,000+
Complete layout and typesetting
I will help you decide whether to SELL your book or SELF-PUBLISH; I'll share the advantages of both options
Discover how your book can help you launch a speaking career, so you can earn $5,000, $10,000, or more as a professional speaker, helping to build your reputation as an industry leader
I will coach you on how to speak about your book
I will do anything and everything I can to help you move from where you are to a life of sharing your talent and gifts with the world –and you'll have fun doing it!
YOU WILL HAVE A BOOK IN JUST A FEW MONTHS!
Why have ME help you? Here is just some of what my clients have to say:
"You were so encouraging and now, thanks to your excellent coaching, I have become an published author and started to officially build my speaking career – something I've wanted to pursue for a long time. Even though I am completely blind, you have helped me in every way. You are assertive, creative, and encouraging. Your coaching sessions are amazing. You always give your best, and go the extra mile to entertain and educate. Thank you, Robin, for helping me to reach my goals and realize so many of my dreams!" ~ Rachel Magario
"Dear Robin, Being a part of your anthology series helped me find my true purpose! I am excited to discover the gift of writing and to know that through my writing, I will be able to inspire and encourage others to accomplish their goals and discover their true purpose. Robin, you are such a blessing to me. I am ever so grateful that God placed you in my path! I appreciate your sincerity and passion for success, and for sharing your insights and wisdom with me! Thank you!" ~ Robbie Chaney
"EXECUTIVE AUTHOR BOOK PACKAGE"
Weekly meetings during which I will interview you in order to create your story in written form. 
Each week, I will submit progress for your review.
Up to 10 weekly emails to collaborate on the direction and architecture of your book
Original cover design, including coordinated promotional cards
4-page optimized Website to promote you and sell your book – including a landing page with opt-in bar (if desired), and pages for ABOUT, BIO, The BOOK, and CONTACT info
Options to print on demand, print paperback or hardcover copies, kindle, e-book formats
Complete editing for grammar as well as for comprehension and cohesiveness
Submission of proposal to literary agents or self-publishing options
In one year, you will have a completed book, ready to publish in your chosen format. 
$25,000.00
ALSO AVAILABLE for ALL ASPIRING AUTHORS
FREE 30-Minute Consultation
Do you want to write a book, but are not sure how to get started?
Do you need help conceptualizing it so you can get started right away? 
Would you find it easier and faster to work with a mentor?
How about if you could have a template that would make writing your book as easy as "fill in the blanks"?
Fiction or Nonfiction, I can help! I'm offering a FREE 30-Minute Consultation to help you get on track to success as an Author! It's FREE; Just email me: Robin at RobinJay dot com to schedule your free consultation now. I can't wait to help you get started.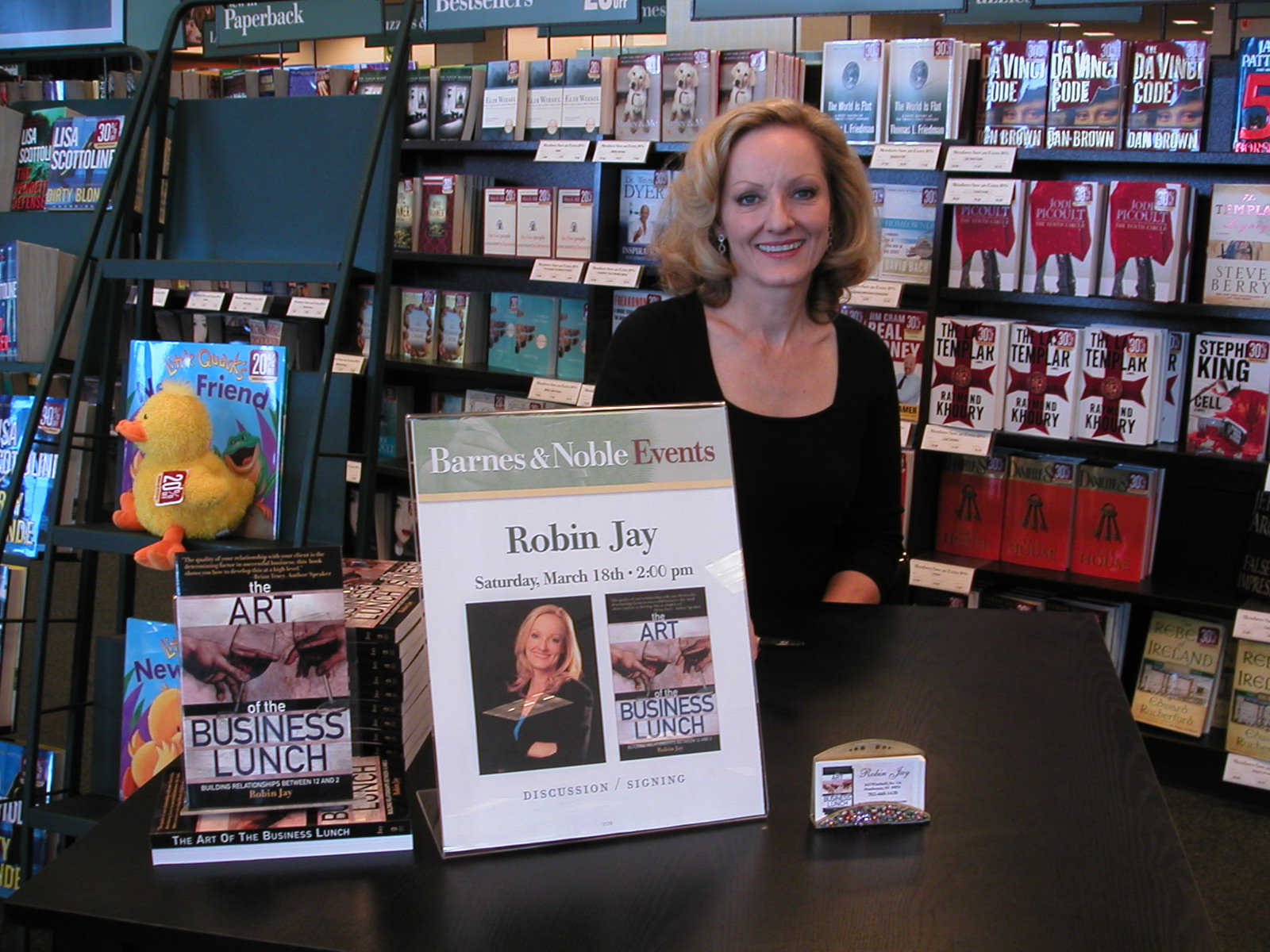 "AUTHOR IN 90 DAYS" Packages:
HAVE YOU STARTED YOUR BOOK, BUT YOU NEED HELP GETTING IT FINISHED? Or, perhaps you are just having trouble getting started.
I'M HERE TO HELP YOU GET IT DONE! IN JUST 90 DAYS, YOU'LL HAVE YOUR BOOK FINISHED AND READY TO PUBLISH.*
*WHEN YOU FOLLOW MY SIMPLE GUIDELINES
"AUTHOR IN 90 DAYS" Packages:
ONE ON ONE Package: 
You will learn how to write your own book and meet weekly deadlines
Weekly ONLINE meetings with me, 1-on-1, to help you to develop your book from concept to completion
I will guide you through your writing
FULL grammatical editing 
Professional, outsourced Typesetting & Formatting package
ISBN & Bar Code
Listing on the www.LVCSB.com Website
$4997.00