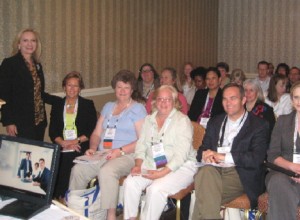 Las Vegas Motivational Sales Speaker Robin Jay Now on eSpeakers
I've been a motivational sales speaker in Las Vegas for nearly 10 years. So, when Nancy Lauterbach, owner of Red Propeller Speakers Bureau, suggested I build a profile on eSpeakers, I took her advice to heart immediately! Nancy knows as much about the speaking industry as ANYONE!
The exercise of listing "everything" about my speaking career as a "Business Relationship Expert", "Sales Speaker," and "The Queen of the Business Lunch" on the eSpeaker website took me several days (since I was also busy doing my other work.) I needed to post my programs, bio, etc., plus re-edit a demo video so it would be free of contact information … a significant tool for bureaus.
The best part of the task was digging up testimonials for my speaking engagements across the country from meeting planners who had booked me to speak and were impressed with the outcome. Sure, I have a "one sheet" with a few choice raves (Interested? You can see some of these on this site under my speaker page.) But eSpeakers recommended I list about 15, so I ended up going through some letters I've received over the past few years. It was a joy to recall the various speaking engagements I've had. I remembered the audiences and the wonderful people I've met. It's rewarding to know that as a motivational speaker, I can make a difference in how people view their business relationships. And I'm SURE I changed the way many of them will manage their CLIENT POWER LUNCHES, (plus Etiquette, and Networking, too)!
As a Sales Speaker, I Will Empower Your Teams
If you've followed my career at all, you know I've been busier making movies lately than speaking. BUT, I am always thrilled whenever I get to speak. I'm excited at the prospect of being available to speak more this year and I'm looking forward to seeing how my profile on eSpeakers will work toward generating new business. I'll keep you posted. I want to speak to your group and empower your teams; as a sales speaker, I know what it takes; I sold advertising for nearly 20 years and regularly brought in 6-figure contracts!
An Entertaining Sales Speaker Will Make a Difference
The experience I've gained as a writer and producer (www.TheKeeperoftheKeys.com) has helped me as a Motivational/ Sales Speaker by giving me even more amazing stories that I can now share from the platform. An entertaining sales speaker will empower an audience by keeping them engaged! Because of this intense experience, I now think more like a business OWNER rather than merely a sales rep – and that makes my sense of what works to make businesses successful even keener than it was before, which was pretty darn keen! I'm happy to credit my ability to build great relationships for my success as a film producer. Not only did I recruit some of the most AMAZING speakers to appear in my film, but throughout the entire process – from production to editing to the premiere to my distribution deal – I have built outstanding business relationships with some remarkable experts and professionals.
I'm looking forward to meeting more people, speaking at more luncheons and events, and sharing my experience to help everyone become a Business Relationship Expert!
Want to know what you should never lick at a CLIENT LUNCH?! I have the answer for you in this video, along with some other quick tips for building better business relationships when hosting your very own "Power Lunches":