Robin Jay: an Award-winning Author, Filmmaker, Screenwriter, Producer, Songwriter, and In-Demand Speaker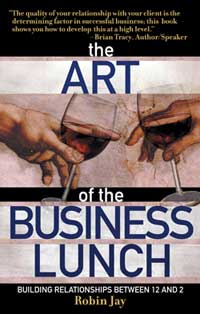 Robin Jay's friends and family thought she was crazy when, in 2003, after twenty years of selling advertising, walked away from a six-figure income that most people only dream of earning. Her belief in the principles of success gave her the confidence to pursue an entirely new career: writing, speaking and coaching others to success.
Her ability to successfully apply these principles became evident as her first book, "The Art of the Business Lunch ~ Building Relationship Between 12 and 2" (Career Press) won the USA Book News award for "Best Book: Business, Sales," and has since been sold in TWELVE languages worldwide.
Robin is a contributor to the noted Chicken Soup for the Soul series with a chapter in Chicken Soup for the Wine Lover's Soul – a perfect tie-in to her business lunch expertise. In her chapter, Robin shares how to order wine when out with clients – without letting them take advantage of your expense account!
She is also the publisher of The Power of the Platform anthology series that features chapters from many of today's most outstanding experts in the fields of personal development and business.
After publishing the best-selling anthology series, The Power of the Platform, Robin continued creating empowering entertainment as Writer and Producer of The Key Movies, a trilogy of award-winning, inspirational films that star today's top self-help thought leaders.
The Keeper of the Keys, the first funny self-help film. The movie won Best Independent Film at the Las Vegas International Film Festival and The INDIE Fest Award for Best Documentary. The film is a groundbreaking hybrid that combines fictional characters interacting with personal development experts. Robin followed up with The Secrets of the Keys and Becoming the Keys, two more films that have gone on to win awards for concept, best original song, and screenwriting.
Today, as an award-winning author, filmmaker, screenwriter, and songwriter, Robin also works as a speaker and mentor. Her list of published works is impressive.
Robin has also been featured in global media outlets for her work.